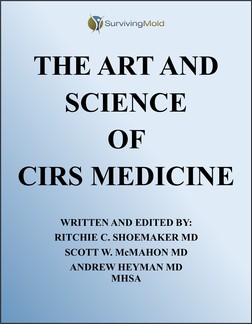 I am pleased to announce that I have completed the definitive textbook on Chronic Inflammatory Response Syndrome, in partnership with Drs. Shoemaker and McMahon. This compendium represents the most cutting-edge science on the subject, including breakthroughs in transcriptomic findings, case analyses, and evidence-based therapeutics. Our clinic is truly a global leader in Mold and Lyme, and I continue to push the field forward by publishing research, teaching graduate courses, and collaborating with a variety of experts.
Dr. Shoemaker and I have now trained over 150 physicians on the proper treatment of CIRS this past year alone, and we continue to expand our efforts in new directions. This textbook represents our wonderful collaboration. It is the first of its kind and demonstrates years of meticulous data collection and research by our small, dedicated group of scientists and clinicians. We have a commitment to excellence at VCHW on the subject and remain at the forefront of the field.
All of you - my patients - are the inspiration for this work. You encourage me to keep asking questions, challenge me to be a better clinician, and to keep pursuing the truth of this complex illness.
I feel privileged to work with you, and together, we will change medicine.
While technical, the textbook is currently available on https://lnkd.in/g7At-37. Some of you might find it a fascinating read.